We help business entrepreneurs to set up their businesses in mainland Dubai. If you're planning to start a mainland company in Dubai then we are the best expert in Mainland Business Setup.
Mainland Business Setup in UAE (Dubai)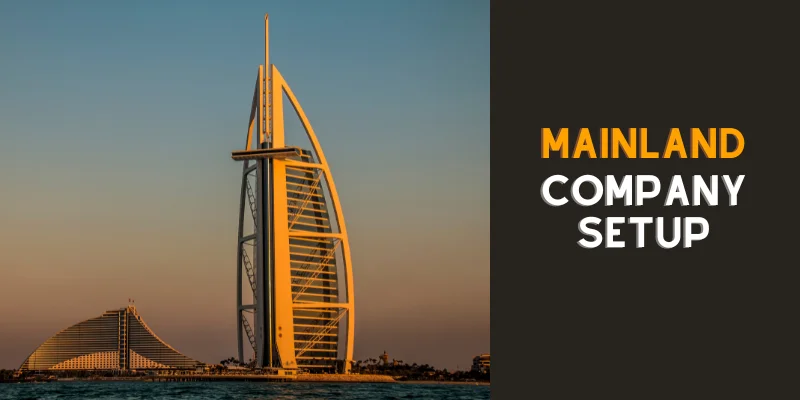 UAE (Abu Dhabi, Dubai, Sharjah, Ajman, Umm Al-Quwain, and Fujairah) is the commercial center of the globe. It is the ultimate destination for businesses of all kinds and sizes, from offshore to mainland companies.
Business setup in Dubai, UAE based on Jurisdiction divided into three types: Mainland Business setup, Free zone Business setup, and offshore Business setup.
Mainland Business Setup in UAE
Dubai Mainland business/company receives its License from Department of Economic Development. Benefits of setting up business in Mainland:
Flexibility to do business in any part of the UAE.
Easy getting office space.
100% repatriation of capital and profits.
No restriction on processing legal documents.
No limitation in getting employment visas.
100% ownership of many activities
5 % customs duty on imported goods
No personal tax (corporate tax 9% will implement from June 2023 onwards)
Start Business in UAE Mainland Involve Below Process:
(1). Identifying A Business Activity
For the selection of business Activities in UAE, there are more than 2,000 Business activities available in UAE. An investment/business can have more than one business activity.
(2). Select Trade License Type
To conduct business in Dubai, UAE Trade License must. Economic Department Issue Trade License. There are Six Types of Trade Licenses:
(i) Industrial License: Required for establishing industrial or manufacturing activity in UAE.
(ii) Commercial License: Required for businesses that involve any sort of commercial trade activity in the UAE. Under a commercial license, the activities along with the main activity should be limited to 10 per license.
(iii) Professional License: Given to Individuals and companies to engage in a profession they are talented in, based on their education qualification.
(iv) Tourism License: Business that Provides tourism activities most acquire Tourism License.
(v) Agricultural License:
(vi) Occupational License
It is illegal to conduct business in the UAE without a license, which results in heavy fines and bans on the activity will be there. Trade License needs to be renewed every year in order to avoid penalties.
Business activity is the basis for selecting the legal form and type of license. The legal form depends mainly on the business requirements, moreover, the legal form is the basis for identifying applicable laws and regulations in the UAE. An investor can select one of the following legal forms:
(I) Sole Establishment:
Also called sole Proprietorship. Owned by individuals. Corporate bodies and companies are cannot own sole establishments. All professional activities are eligible. Soles establishment with one shareholder. GCC Nationals can incorporate any type of sole establishment i.e. industrial, commercial and professional, etc., But A foreign national can set up a company only with a professional license own a 100% share in the business, control it activities, and shall bear all the profits and liabilities alone. Liabilities are unlimited. Creditors can claim personal assets to compensate for company debts. Sole establishment of the foreign nation not eligible to do import, export, trading, real estate, etc., except professional service.
For foreign nationals, it is mandatory to have a Local Service Agent (LSA) to register sole establishment. LSA does not hold any stake in the business. LSA is restricted to visas, licenses, and other work.
(ii) Civil Establishment:
Also called a civil company it is a partnership between two or more individuals to provide professional services i.e. doctors, lawyers, engineers, and accountants, etc., Civil company allows 100% ownership but unlimited liability like sole establishment. Civil companies with specific activities have additional requirements regulating shareholding.
For foreign nationals, it is mandatory to have a Local Service Agent (LSA) to register a Civil establishment. LSA does not hold any stake in the business. LSA is restricted to visas, licenses, and other work.
(iii) Limited Liability Company (LLC):
LLC is one of the most common and widely used legal forms and the best destination for business setup. LLC can form with a minimum of 2 and a maximum of 50 shareholders; wherein one needs to be UAE national and UAE national holding a minimum of 51% shares (however, a side agreement or a nominee agreement is prepared with UAE national by which foreign national can enjoy effective control to manage the company and enjoy profits). From 01st Dec 2020 onwards for Certain Business Activities UAE national's 51% shareholding was removed i.e. now foreign nationals can have 100% shareholdings.
LLC shareholders' liability is limited to their share in the capital therefore, the business laws in UAE offer shareholders full personal protection from liabilities.
(iv) Branch Or Representative Office of Foreign Company
UAE commercial law provides two options to foreign company want to set up (1) a Branch of a foreign company and (2) a Representative office.
The branch of a foreign company is permitted to have 100% ownership of the parent company and as it is an extension of a foreign company and the foreign company shall be liable for its activities. Foreign branch office in UAE permits to perform all activities offered by its parent company. This is subject to approval on activities by the Ministry of Economy.
A representative office is a marketing office and cannot be commercially traded. Representative offices allow marketing the services or products offered by the parent company. A representative office cannot commercial trade or sign contracts in UAE.
Both allow foreign companies to establish a presence in UAE while retaining 100% ownership for both forms a Local Service Agent (LSA) (either Individual / corporate vehicle) is required to complete the incorporation process. LSA not hold any stake in the business. LSA are restricted to visas, licenses, and other works.
(v) Holding Company:
A holding company is a legal entity incorporated by local or foreign investors with aim of hold shares or other assets of subsidiaries i.e. holding company as parent company controlling subsidiaries. Holding company is not allowed to carry out business activities such as providing services or manufacturing of goods. To Register a mainland holding company a foreign investor must have a local partner who will own 51% of the holding company (however, a side agreement or a nominee agreement is prepared with the UAE national by which the foreign national can enjoy effective control to manage the company and enjoy profits).
(vi). General Partnership / Limited Partnership:
This type of company can be opened by UAE nationals only.
(vii). Public Joint Stock Company:
(viii). Private Joint Stock Company:
(ix). Branch of Local company / GCC company / Free zone company:
(4) Register the Trade Name
An investor can apply for Trade Name through Economic Department. Trade Name reflects the nature and form of the business. Trade name different one business from another. Trade Mark Register by Ministry of Economy. Trade name certificate renewable.
Few Guidelines for Register Trade Name:
Not have been previously registered.
Trade Name followed by legal form (i.e. LLC, PJSC, PrJSC, etc.,)
Not violating the morals of the public/country
Not the certain name of any religion, logos, etc.,
Name compatible with activity and legal status.
(5) Initial Approval & Additional Approval
An investor can obtain initial approval before or after the trade name reservation. An initial approval refers that UAE Govt. has no objection to the business being established in the country. It allows investor to proceed with the next steps in setting up a business. The purpose of initial approval is to obtain a commercial site lease contract and to obtain additional approvals from the competent authority.
Certain Business Activities are required Additional approvals from Government entities:
(a) Ministry of Health: Health Related Activities, Pharmaceutical, and medical product trading.
(b) Ministry of Interior: General Transport, Driving school, Fire equipment, Safety systems, Used car dealers, car parts, car rental, etc.,
(c) Ministry of Justice: Legal activities and legal consultants, Advocate.
(d) Municipal Department: Architectural and engineering affairs, contracting, and building maintenance.
(e) Ministry of Labor: Manpower recruitment agencies.
(f) RERA: Real estate activities, Business center activities…
(g) Ministry of Finance and Industry: Manufacturing activities.
(h) Sports Council: Gym and Fitness.
(i) Department of Tourism and Commerce Marketing: Travel and Tourism activities.
(j) National Medial Council: Printing, Publishing, and advertising.
(k) KHDA: Training Institute, educational establishments.
(l) Security Industry
Regulatory Agency: Gold trading, Event Security, CCTV Business.
(m) TDRA: Telecommunication activities.
(n) Ministry of Economy: Insurance activities, insurance consultancy, chartered accountants.
(6) Memorandum of Association (MOA) / Local Service Agent Agreement (LSA)
UAE-based law firms, courts, and notary public prepare and attest MOA and LSA.
MOA Required for: LLC, Limited Partnership, PJSC, PrJSC. LSA Required for: other companies.
(7) Select a Business Location
All business in the UAE must have a physical address to operate. The business premises and location must comply with requirements defined by the respective Emirates DED, as well as the land planning regulations of the local municipalities. Office and warehouse-attested rental agreement needs to provide.
(8) Collect The Business License
After completion of all the above steps, investors can collect the Business License from the Service Centers of the Economic Department or through its website of it.
Documents for all Legal Forms
Initial approval receipt and all the previously submitted documents
Copy of attested lease agreement
Duly attested MOA / LSA
Approvals from Govt. entities (if additional approval is required)
Pay fees for Trade License on receiving the payment voucher
(i) Required Documents for Individual Ownership
Passport copies
Emirates ID
Work ID of Emirates
Visa page (if available)
Tourist Visa copy
Trade License / Incorporation certificate of the mother company
Copy of MoA / AoA
Board of Director resolution for setup new company in UAE (attested if required)
Power of Attorney to the representative/manager
Copy of passport / EID/work ID of representative/manager and Emirate shareholders.