Freezone Company Setup in UAE (Dubai)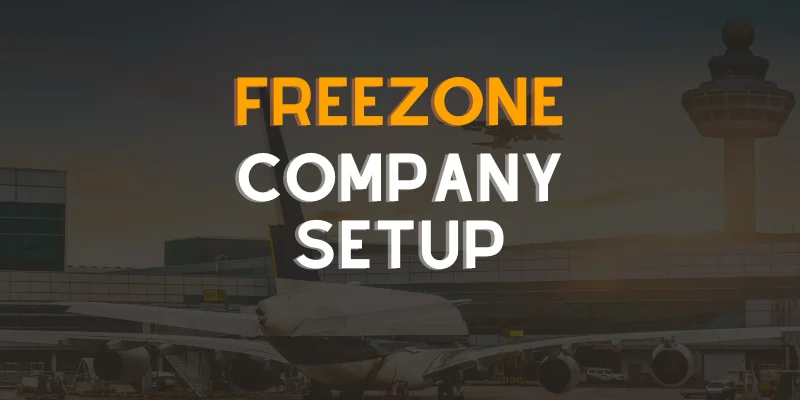 If you are planning to setup a freezone company in Dubai, contact us to get the best freezone company setup services. We are a reliable company to provide you with the best freezone company setup services at the best price.
United Arab Emirates (UAE) Government has set up multiple free zones in Emirates, each free zone designed for a specific business activity. An independent free zone authority Governs each free zone and is the agency responsible for issuing operating licenses and assisting companies in establishing a business in the freezone.
Benefits of investor Free Zones
100 % ownership
100% exemption from corporate tax, personal tax
100 % free funds transfer
Easy Govt. Policies and framework
No foreign exchange controls
Exemption from import and export duties
Easy startup and procedures
Single window system
Sponsorship and visas for the workforce
Easy access ports etc.,
No minimum capital requirement (capital investment varies on the business type and free zone authority.
Start Business in UAE Free Zone Involve Below Process:
(1) Determine the Type of legal entity
(a) Two types of company setup in Free zones:
(i) Free Zone Establishment (FZE): An FZE is a limited liability establishment, incorporated in a free zone, owned by ONE natural or Juridical person.
(ii) Free Zone Limited (FZ LLC) / Free Zone Company (FZ Co.,): is a Limited Liability company incorporated in a Free Zone, Owned by MORE THEN one shareholder up to Maximum of Five Shareholders.
The Commercial Companies Law does not apply to FZE / FZ LLC or FZ Co. provided that the free zones have special provisions regulating companies.
(b) Branches: Existing local and foreign companies may set up a branch of their company in freezone.
Different Types of Licenses Available in UAE Free zones:
General Trading License
Commercial License
Service License
Manufacturing License
Warehousing License
Industrial License
E-Commerce License
Offshore License
Consultancy License
After deciding the type of legal entity, choose a trading name. Check trade name with respective free zone authority or DED about permitted names
Few Guidelines for Register Trade Name:
Not have been previously registered.
Trade Name followed by legal form (i.e.FZE, FZco, FZ LLC, DMCC, etc,)
Not violating morals of the public/country
Not the certain name of any religion, logos, etc.,
Name compatible with activity and legal status.
(3) Apply for a Business License
The type of business license depends on the primary activity of the business. Need to submit the supporting documents when applying for the license.
(4) Choose an Office Space
Free zone authority provides offices. An investor can buy or lease office space in a freezone. Office requirements depend on the number of employees and type of business activity of the business
(5) Initial Approval & Additional Approval
An initial approval refers that UAE Govt. has no objection for the business being established in the country. It allows investors to proceed with the next steps in setting up a business.
Certain Business Activities are required Additional approvals from Government entities:
(a) Ministry of Health: Health Related Activities, Pharmaceutical, and medical product trading.
(b) Ministry of Interior: General Transport, Driving school, Fire equipment, Safety systems, Used car dealers, car parts, car rental etc.,
(c) Ministry of Justice: Legal activities and legal consultants, Advocate.
(d) Municipal Department: Architectural and engineering affairs, contracting, and building maintenance.
(e) Ministry of Labor: Manpower recruitment agencies.
(f) RERA: Real estate activities, Business center activities…
(g) Ministry of Finance and Industry: Manufacturing activities
(h) Sports Council: Gym and Fitness.
(i) Department of Tourism and Commerce Marketing: Travel and Tourism activities.
(j) National Medial Council: Printing, Publishing, and advertising.
(k) KHDA: Training Institute, educational establishments.
(l) Security Industry
Regulatory Agency: Gold trading, Event Security, CCTV Business.
(m) TDRA: Telecommunication activities.
(n) Ministry of Economy: Insurance activities, insurance consultancy, chartered accountants.
Below Documents required for Initial Approvals:
Application form
Business plan
Copy of existing license (if an existing company)
Passport copies
Specimen signature
Unit title deed
Letter of intent
Registry identification code form (RIC) for managers/directors.
After getting initial approvals, need to pay registration fees and license fees. The fees depend on the type of license. Below are documents that need to submit for registration
Application form
Notarize and attested Board resolution
Notarize and attend POA, MOA & AOA, Specimen signature
Photos of the manager & director
Share capital information.
(7) Licensing and Visa Process
Lease agreements will be prepared by the authority, then a trade license will be issued. The Visa process will start.
UAE Popular Freezone List
Abu Dhabi Airport Business City
Ajman Free Zone
Ajman Media City Free Zone
Dubai Airport Freezone (DAFZA)
Dubai Multi Commodity Centre (DMCC)
Dubai South
Dubai Silicon Oasis
DTec Free Zone
Dubai World Trade Centre
Dubai Media City Free Zone
Dubai Gold and Diamond Park
Dubai Health Care City
JAFZA
Sharjah Airport International Free Zone
Sharjah Media City (SHAMS)
Sharjah Publishing City (SPC)
SRTIP Free Zone
Hamriyah Free Zone (HFZA)
RAKEZ
RAK Media City
IFZA Dubai
Fujairah Free Zone
Creative City Free Zone Fujairah
UAQ FTZ
Dubai International Financial Centre (DIFC)
Masdar City Freezone
KIZAD Free Zone
UAE has introduced Freelance Visa (self-employment). This is a type of Residence permit in UAE it gives you that right to live and work in the country as well as get resident permits for family members. Freelance visa holder can work anywhere in UAE in their relevant field. Freelance visa for professionals working in the fields of Media, Events, Consultancy, Education, Communication and marketing, Music and Entertainment, Design and Technology, Banking, and Financial profession.
Residents with an employment visa can also get a freelance visa in Dubai provided they have no objection certificate from their current employer. Abu Dhabi Freelance visa allows you to establish yourself as the sole proprietor under your birth name and practice specific business activities outlined in the License.
Freelance visa will provide by
Twfour54
RAK Economic Zone
Dubai Media City
Dubai Internet City
Dubai Knowledge Park
Dubai Design District
Ajman Free Zone
Dubai Studio City
Dubai Production City
Fujairah Creative City
Required Documents for Freelance Visa
Business Plan
Updated Resume
Attested Degree Certificates
Application form
Passport Copy
NOC from sponsor (if sponsor visa)
Good Standing Certificate from Bank
Work portfolio